5 years ago I was sat behind a computer surfing YouTube for whatever life-inspiring, risk taking madness I could find to ease my lack of direction in life. It's a process one finds oneself in sporadically when motivation is low, senses dulled. I was in New Zealand at the time. I had the shared house to myself, leaving me to plugin to the web, searching for answers. That's when I stumbled upon a 5 part documentary called 'SkyWalker'.
It was part of a Channel 4 series called 'DareDevils' and the leading star on this episode was a wild man named Dean Potter. That show presented to me the art of balance taken to the extreme, as Dean would free solo (walking a line so high, you would die if you fell, with no protection) a variety of insane highlines, pushing it even further to wearing only a parachute and indulging in what became known as FreeBASE.
I didn't know it at the time but watching SkyWalker was the first instance of slacklining lodging itself in to my unconscious, only to manifest in the form of actually stepping on to a line only months later. Years later, I would turn the art of balance in to my own divine practice, a part-time business and a way of life.
So I guess, Dean, this is my homage to you! I've never met you, but thanks for pushing your own limits to the death, so that I have been able to recognise my own limits and dedicate my time to superseding them. It's possible without seeing you do it first, I would have never had the courage to try.
Yesterday I was sat on the train and noticed an image that would only catch the attention of the peripherals of a slackliner. But attached to it was the sad news that a Wingsuit jump accident had claimed the lives of two people in Yosemite National Park, Cailfornia, the home of slacklining. One of those lives was Dean Potter.
To be perfectly honest, it always sat in my mind the surprise of one day hearing that Dean Potter had turned 50 years old. I was skeptical he'd ever make it that far. He'd channeled every ounce of motivation, every segment of life force into staying alive in the most perilous of situations. I was sure he was using his quota up faster than the norm.
And good on him, too. Bollocks to living an uninspired life, waiting to die.
The chase of the 'high performance state' – something I didn't even know existed before I had learnt to highline – cost him his marriage. It cost him his societal status and sponsorships. Fuck, it even cost him his life. But I would go as far to say it was worth it. The temporary realms of Nirvana that the Wildman reached is only experienced by a few psychologically advanced anomalies on this planet. And within his sacrifice of worldly, title-holdings, he gained more than the world will ever know. And inspired me to hunt after a fraction of the same grail.
I don't know the details of Dean's accident. But really, it doesn't matter. He was on a path to exit this world doing what he loved – it was just a matter of time.
I wish you all the blessings possible in your next chapter, Dean.
Like you said, this life is all we've got. You saw people go, and there was no evidence that anything ever came after they went. You made the most of it, and for that, you will never be forgotten.
Fly High, my friend.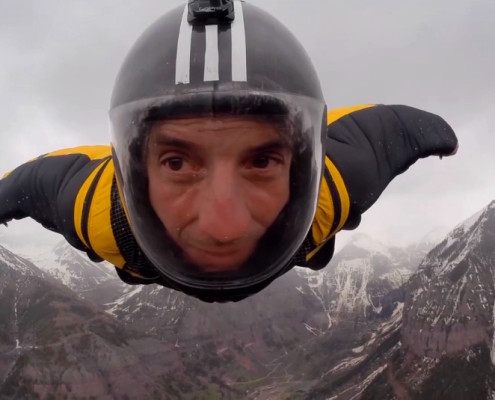 Harry Cloudfoot is a writer and explorer of movement and mind. You can check his social media if you want but you'd be better off going and doing something, instead.
Latest posts by harrycloudfoot (see all)