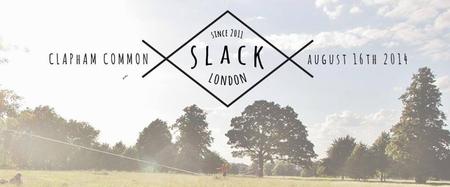 For those of you in London this August looking to get some slackline action under your belt, look no further than SlackLondon – a free family festival of balance for all interests and abilities.
"The UK's largest slackline festival returns for its fourth year. On the 16th of August from noon to eight the now iconic Clapham Common rigging spot will once again be hosting this truly unique gathering."
Click here to Register for your Free SlackLondon 2014 tickets

Because the festival is now larger than it ever has been, coming on leaps and bounds since I first started it in 2011, thanks to the Antic Slacklining collective SlackLondon requires a quick registration for tickets.
Just click the link above and follow the on screen instructions to secure your places.
If you think you're able to lend a hand on the day, whether it be for rigging, capturing the moment or otherwise, give Jester an email at chris@anticslacklining.com
Look forward to seeing you there, please spread the word and get psyched for the biggest SlackLondon yet!

Harry Cloudfoot is a slackline instructor based in London, UK. You can follow him on Twitter and Facebook.
Harry Cloudfoot is a writer and explorer of movement and mind. You can check his social media if you want but you'd be better off going and doing something, instead.
Latest posts by harrycloudfoot (see all)